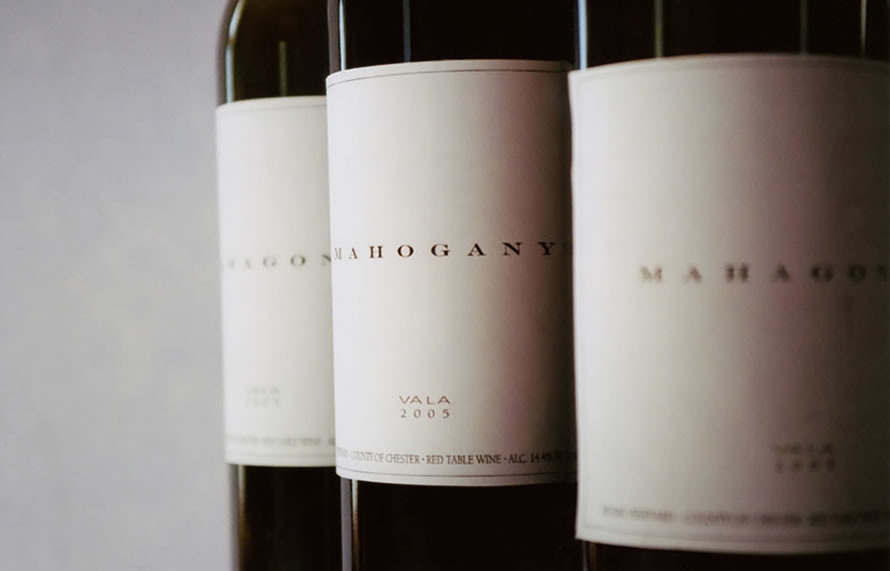 "Perhaps the best-known American practitioner of true 'vins de terroir' is East Coast vintner Anthony
Vietri of Pennsylvania's Va La Vineyards. Although Vietri has only a 6.7-acre plot, he has separated it
into four distinct terroirs, each producing a single wine from several varieties ( and, importantly, many
clones of varieties, such as Nebbiolo) that, through years of experimentation, each soil has selected. "
— Roger Morris, Drinks Business


"The email message was simple. It made me smile. Still does. The note was a response to an inquiry
- my request to visit a Chester County winery I'd heard the good word on, repeatedly. It was brief, honest
and bereft of showbiz: 'My name is Anthony and I farm the wines here. We're not really comfortable
talking about ourselves, but I would like to meet you and say hello. I am unfortunately chained to my
tractors most every day."
— Jeff Alexander, Philadelphia Wine Examiner





white soils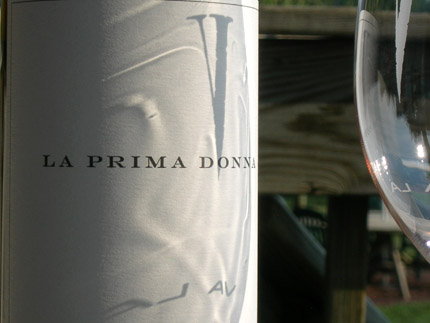 This wine was produced by the stony soils
of the southeast area of the field.
( tocai, malvasia bianca, fiano,
pinot grigio, petit manseng )










"This is a standout, an alive and invigorating wine…"
— Jeff Alexander, Philadelphia Wine Examiner


"...I've not tasted a more complex and fascinating local wine, red, white or orange."
— Craig LaBan, Philadelphia Inquirer


"Wine of the Year! Truly an outstanding blend."
— 2012 Case of the Brandywine, Delaware Today Magazine


"…truly one of the best American whites I have tasted."
— Roger Morris, Delaware Today Magazine








dark soils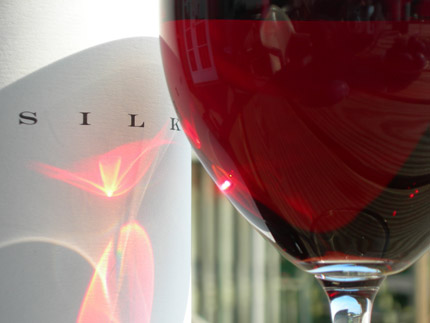 This dry rosato was produced from the soils
of the eastern slopes of the hill.
( corvina veronese, barbera, nebbiolo,
carmine, petit verdot, etc. )










"Silk has evolved into a gorgeous oddity - a wine with voluptuous fruit and what feels like
good structure, but one that also drinks seamlessly with virtually invisible edges."
--- Craig LaBan Philadelphia Inquirer, July 21, 2017


"This is a wine that is hard to describe but it is oh so good. This gets a Whoa.
And then another. Whoa. This wine will not only challenge your conception of a rosé,
it might cause you to question what you have been doing your entire adult life.…"
--- 2013 Silk, The Drunken cyclist


"This rosato is so much more than your average rose'... this wine dances
across your tongue, coats the sides of your mouth, and excites your senses.…"
--- Silk 2013, American Winery Guide, Steven M. Giles


" ...a red wine drinker's rose, complex...it drinks beautifully at room temperature or slightly chilled."
-- Saveur the Good Life!


"This wine is beautiful...Purple and red, but translucent. Big deep flavors of dark raspberry and plum."
--- Carlo DeVito, East Coast Wineries Blog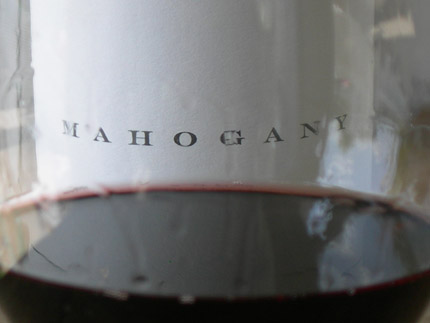 This wine was produced by the black mushroom
soils of the center area of the hill.
( malvasia nera, barbera, sagrantino, carmine,
lagrein, charbono, teroldego, petit verdot )










"…a breakthrough wine that has a combination of structure, flavors,
and complexity that will improve over the years."
— Roger Morris, Wilmington News Journal


"…a plush and powerfully intriguing blend called Mahogany… has
'cult wine' potential."
— Craig LaBan, Philadelphia Inquirer


"…am not a big red kind of guy, but this is truly wonderful
as the multitude of different components meld together into a cohesive whole.
The wine is wonderful now, but could easily take on a decade in the cellar. Outstanding."
— Mahogany 2012, The Drunken Cyclist


"Easily one of my favorite red wines on the eastern seaboard.
....cherries, raspberries, a hint of red currant, and beautiful complexity...Fantastic."
— Carlo Devito, East Coast Wineries Blog

"…one of my favorites from anyplace around the world."
— Paul Vigna, The Wine Classroom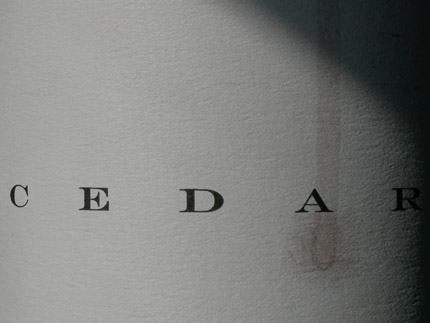 This wine was produced by the red soils
on the western edge of the field.
( five clones of nebbiolo lampia & michet,
corvina veronese )










"I loved them all. But pay attention to my new favorite, the Italian-styled Cedar."
— Craig LaBan, Philadelphia Inquirer


… "This is perhaps one of the most unique blends I've ever tasted.
Winemaker Anthony Vietri captures the terroir of his aptly named little vineyard
in this Nebbiolo-based blend bursting with dark fruits, sweet spice, earthiness, tannin, and acidity."
—Elizabeth Smith, The Traveling Wine Chick Blog


"…could smell this all day…perfect color…no question my favorite
wine, and will be an addition to my cellar."
— Anthony's Wine Blog


"...the best Nebbiolo I have tasted outside of Northern Italy…"
— Sommelier News, International Sommelier Guild






---
"The combination of the land, the vines and the heart and soul of his unwavering dedication in
what he believes, make these wines some of the most intriguing, complex and best I've ever
encountered. Not just in Pennsylvania, the east coast, or even out west in California, Oregon,
or Washington, but anywhere in the world of wine. "

— Steven M. Giles, SMG Wine Blog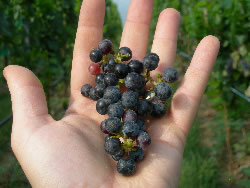 "Here and there vintners prove themselves gratifying exceptions, going against the grain of fashion and propagating field blends and their charm. That includes not just those … in famous growing regions, but also in places where only in this generation were vines even planted at all, as is the case at Channing Daughters on Long Island, or at Va La (not far from the suburbs of Philadelphia and Wilmington on the US East Coast), where Anthony Vietri – also with Italian inspiration - practices co-cultivation and co–fermentation of umpteen varieties. It's not by chance that precisely these — if as yet not well–known — wines from New York and Pennsylvania belong to the most multifaceted and fascinating in the USA.…"

— David Schildknecht, Vinaria



"Anthony Vietri, who crafts the beautiful wines of Va La Vineyards...has developed a deeply
loyal following among those who have tasted the fascinating, soulful wines... "

— Brian Freedman, Forbes Magazine September 19, 2016



"I was very impressed...They are absolutely as individualistic as hell, and that's great.
Everyone else is trying to make, you know, factory-style Merlot and something like this comes along, it's great."

—Colman Andrews Editorial Director The Daily Meal, Editor in Chief Saveur Magazine



"Vietri's wines — all field blends from his small vineyard…are unlike anything I've tasted,
not only from Pennsylvania but from the East Coast. Maybe even in the United States...
His wines were game-changers for me "

—Lenn Thompson The Cork Report, March 2016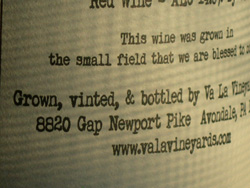 Stay a Night or Two
at a Classic Bed & Breakfast
& Experience All of the
Historic Brandywine Valley

availability






©2016 Va La Family Farmed Wines. All rights reserved. Images and content are property of Va La Vineyards, unless otherwise noted
Va La Family Farmed Wines | 8820 Gap Newport Pike (Rt. 41) | Avondale, PA | 19311 | 610-268-2702